Features
Customer Support
Manage customer-reported issues and provide your support team with the tools they need to resolve the issues promptly.
Get Started
Schedule Demo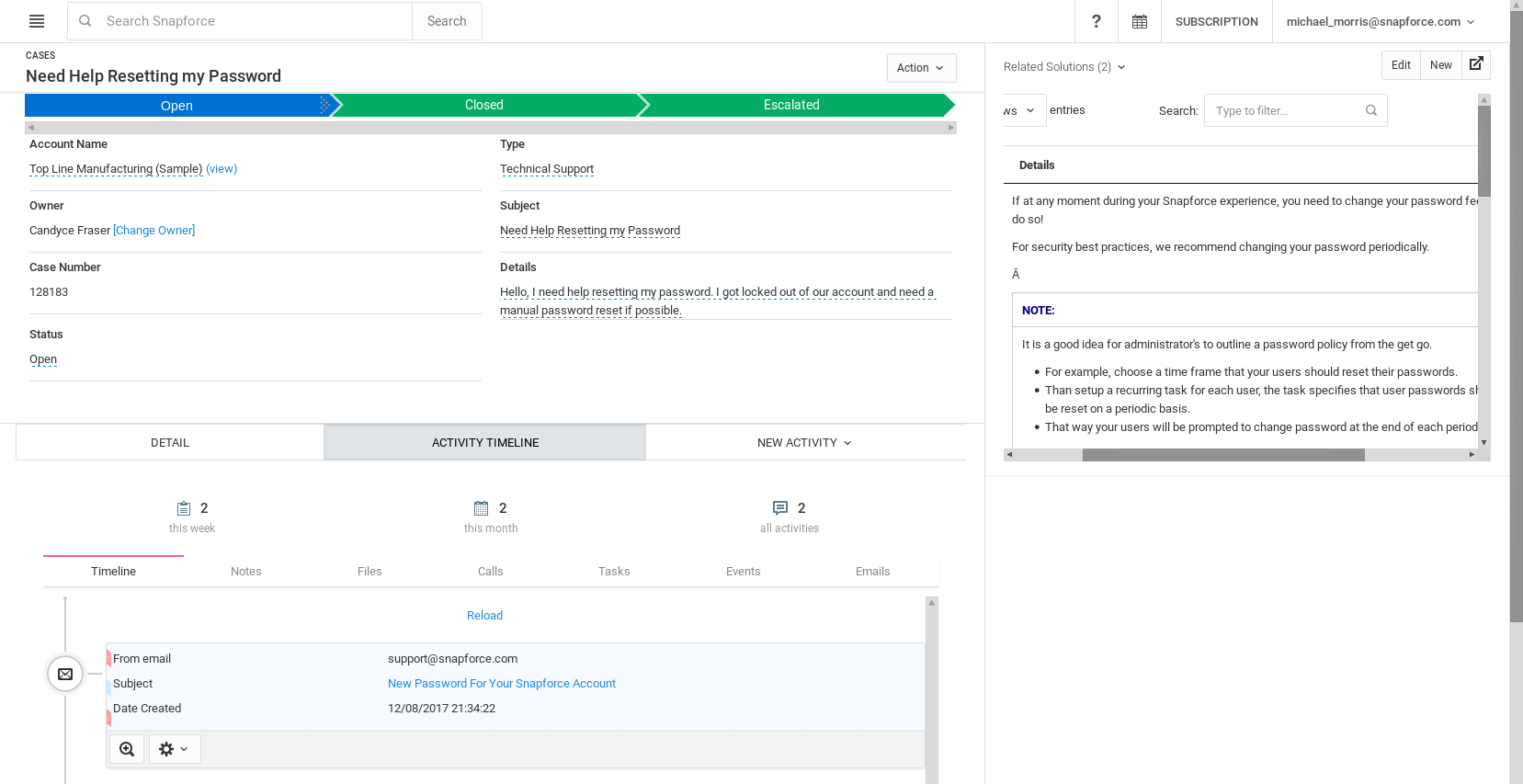 Knowledge Base
Using the Solutions module, create a knowledge base containing company guidelines, call scripts, step-by-step procedures, and more.
Create instructional guides using images and videos that can be added to the solutions module.
Separate solutions into line items that can be easily found by searching for keywords.
Edit and update solutions to be more helpful by allowing users to rank the efficiency of each solution.
Case Reports
Track open and closed cases using pre-configured Support reports and dashboards.
Monitor open cases in order of issue severity, date opened, assigned user, etc.
Get a visualization of the rate in which cases are being created and resolved with volume reports.
Build custom reports containing additional case information that can be added to the support dashboard.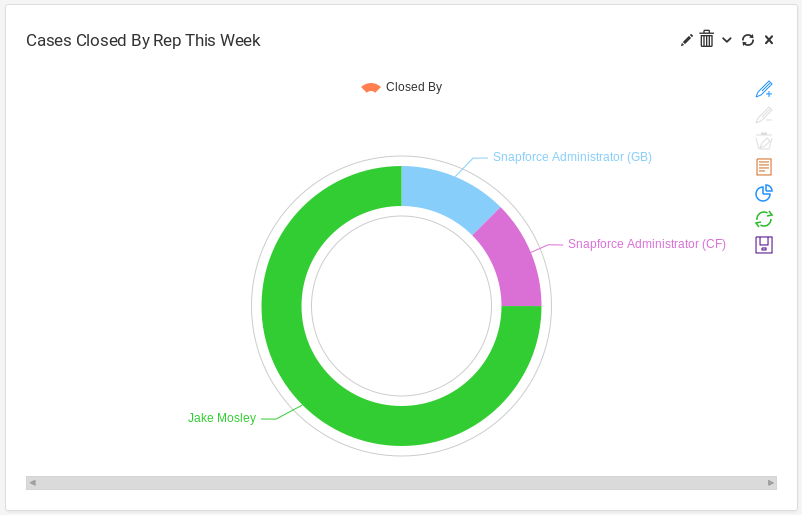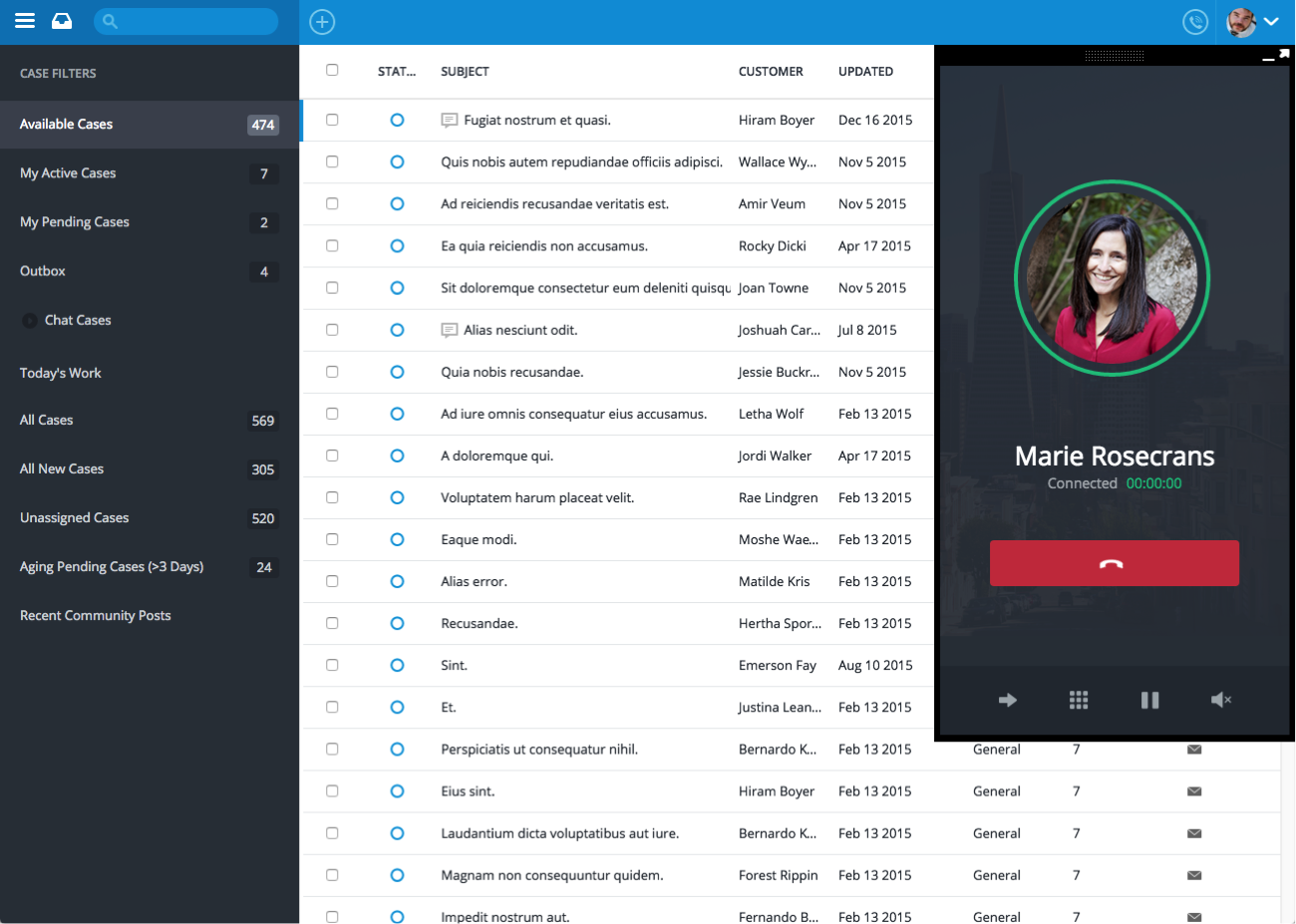 Phone Support
Enable customers to contact users by phone by linking Snapforce to phone systems using the VoIP CRM module and softphone.
View call logs daily to track information including call date/time, call length, user, caller information, and more.
Generate call reports to assist with managing user performance.
Record incoming calls to monitor and evaluate phone support quality.
Functionality
Other Features
Sales Force Automation
Keep your sales team focused and moving through the sales cycle with our built-in sales automation feature set.
Leads, Contacts, Accounts, Opportunities
Automatic Call Logging
2-way Mail Sync
Calendar Sync
Custom Workflows
Customer Service
Don't lose another customer from service requests that slip through the cracks with our suite of custom support tools.
Case & Ticket Management
Solutions
Knowledge Base
Service Reports
Client Portal
Marketing Automation
Keep your company growing with our tight-knit marketing automation feature set.
Drip Campaigns
Marketing Campaigns
Campaign to Opportunity
Mass Email
Auto-Responders
Email Templates
Email Delivery Tracking
Analytics
Understand your data and the progress of your team with our reports and analytics tools.
Standard & Custom Reports
Recurring Reports
Share Reports
Export Reports
Copy and Paste Reports
Grouped Reports
Inventory Management
Keep your products and inventory organized and in sync with quickbooks.
Product Management
Price Books
Sales Quotes
Sales Orders
Invoices
Quickbooks Sync
Document Management
Centralize your company documents and files, organize and link them to individual customers or leads.
Multiple File Uploader
Attach Documents
E-mail Unlimitted Attachments
File Versions