Complete Introduction to CRM in 2023
CRM Software is a cloud or on-premise system a business uses as a database to manage their customers and all of the communications and interactions they have with them. In this CRM guide we will explain in layman terms what a CRM is, and what is not a CRM, the benefits of CRM, how much a CRM costs, how to find the best CRM, and how to get started with a CRM Software.
Table of Contents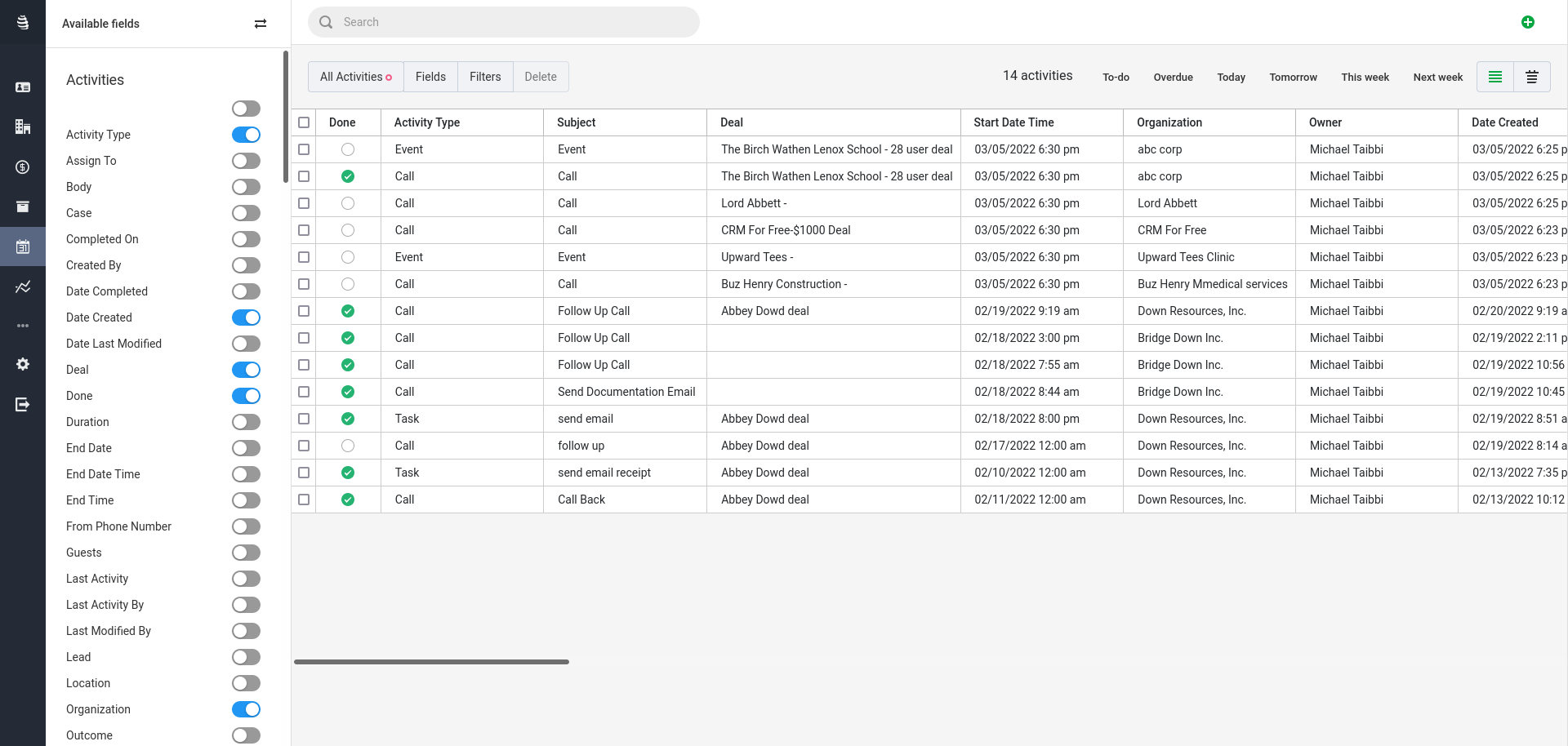 Definition of CRM
CRM is an accronym for Customer Relationship Management, it refers to the processes and systems an organization uses to manage the relationships with their customers.
CRM Software is used by organizations as a central system to manage their customers and leads, as well as all of the communications and interactions with them. An organization normally has their sales team use the Sales Force Automation features of the system. The marketing team will utilize the Marketing Automation features of the system, such as Drip Campaigns and Email Campaigns. The customer service team will use the customer management and ticketing features of the system.
What is a CRM?
In simple terms a CRM is a software program that acts as a database to store the customers, leads, and contacts of an organzation. It will also store all of the communication and interactions with those customers, leads, and contacts. CRM Software is a Relational database, that lets you link or connect different records of data with others. Such as linking a contact with a customer, or an email to a contact. An organization that uses a CRM can open a customer in the system and see all of their information, such as basic information like the name and phone number of the customer, and more granular information such as the date and time of the last order the customer placed. Additionally when viewing that customer in the CRM you can also see all of the notes, calls and emails relating to them.
What is not a CRM?
Excel spreadsheets are not a CRM, Outlook is not a CRM, a contact manager tool is not a CRM. There are many contact manager tools available that simply let you store your contacts in a database, that does not mean it is a CRM. Instead it means that it has one feature of a CRM. Systems that are non-relational cannot be considered a CRM.
Benefits of CRM
For almost all organizations CRM Software is a necessity, the benefits of CRM are plentiful. We will discuss many of the benefits that come from deploying a CRM for your business.
Having One Central System For Your Customers
For many businesses having one central system where all customer information lives is the biggest beneift of CRM. Without it, customer data would be saved to spreadsheets which leads to all sorts of problems. For example what happens when the customer phone number has to be updated on a spreadsheet? Someone has to make that change, but what about all of the other employees with a copy of the spreadsheet? They will all have an old version of the spreadsheet, and would need to be sent an updated copy. There are many other benefits from a CRM that are listed below.
Tracking Employee Performance
Organizations that use CRM have a real time accounting of all employee activity. When employees login to the system each morning, when they logout, how many calls each employee makes each day, etc. All of these basic employee metrics are captured by the CRM automatically, and can be easily reported on.
Real Time Reports
Reports can be ran on all data in a CRM system, running customer reports, lead reports, order reports, performance reports, and others are all done quickly and easily. Unlike with legacy software or traditional databases where you need a database administrator to build the report and send it to you a few hours later. Those days are gone, with a CRM running reports is simple and quick.
Tracking Customer Communications
With most CRM Software you can log notes and calls, schedule tasks and events, and send emails. With good CRM Software many of that data entry can be done automatically by the CRM itself. Email Sync is a good example, where all emails you send from your Outlook or mobile phone will automatically sync and appear in the correct customer or lead timeline. This is a great benefit of CRM as all email your organization sends or receives from a specific customer will appear in that customer record, regardless which employee sends the email.
Sales Forecasting
All CRM systems have a way to forecast future sales, this is a critical function of any sales team. Many sales managers will forecast the sales their sales people are expected to close and plan accordingly. CRM sales forecasting does this for, using an expected close date field in the Opportunity records sales people create.
CRM VoIP
A few good CRM systems provide CRM VoIP, which is a virtual phone system that can replace your existing analog phone system. The benefit of this is huge, it will save you a lot of money and integrate the phone system with the CRM. After configuring your CRM VoIP system all phone calls will automatically log to the customer, contact, or lead you speak with. Call recordings will also be attached to each call. Voicemails will also log automatically to the customer. This will provide a benefit to any organization, especially those which need to know how many calls employees make daily.
CRM Integrations
Organizations that use CRM Software also have the benefit of using the many integrations their CRM has available. Integrations are programatic connections between the CRM and third party services. This is how organizations can keep all of their data up to date when using multiple different systems. For example a very common integration is Quickbooks, integrating your CRM to Quickbooks will keep all customer data in Quickbooks up to date. Normally the accounting team uses Quickbooks and the sales and customer facing team use the CRM. In the case of a customer whose phone number gets updated in the CRM, that edit triggers an API call to Quickbooks that instantly updates that customer. The benefit of this is that the data is always accurate between both systems.
In the event there is not an established integration with the third party service you are using, you can always take advantage of the open API (Application Programming Interface) the CRM offers.
How much does a CRM cost?
In 2023 the cost of a CRM can vary widely, some CRM providers charge as low as $12 per month per user and others charge upward of $250 per month per user. You will also find many of them put in small print in their pricing that the cost must be paid annually. This is a huge cash expense that is not worth it. A fair price for CRM is anywhere between $12 to $60 per user per month depending on how complex the needs of your business are.
As of November 2023 all CRM's in the market have the same pricing structure, except for Snapforce CRM. All of these CRM's offer a few different editions, each including more features than the last and costs more per user per month. You'll see names like "Basic Edition" and "Ultimate Edition", for example Salesforce's "Ultimate Edition" currently costs $250 per user per month paid annually. Additionally all users must be on the same edition even if the majority of the users do not need most of the features included.
The "a la carte" pricing structure of Snapforce CRM provides a flexible pricing model where you only pay for the features each user needs. If you have ten users but only one of them needs the Campaigns feature you only pay for one user of that module. Which is the complete opposite of the other CRM's where you would need to increase your edition to the next higher level.
How to find the best CRM?
The first thing to know about finding a CRM is that they are all very similar. Most of them have the same CRM features, and most organizations will only use a small number of the features their CRM offers. It is not worth spending a large amount of time studying each CRM and running demos with them all. The best way to find the best CRM for your business is to schedule a demonstration with two or three of them. Before you do the demo, make a list of what your organization wants to use the CRM for. Then before the CRM provider starts the demo tell them this is what we will be using the CRM to do, show me how you would do it. Hopefully they will all be able to show you how to do those things, if they cannot you can rule them out immediately. Out of those that can, you should pick which you liked the best, which one gave you the best feeling.
The bottom line is spending a large amount of time on the search will feel like going in circles, and will not provide you any different results regardless how many different demos you see.
How to get started with a CRM?
After you purchase the CRM you should schedule a setup call with their support team. The first call is critical to get everything configured the right way. It is possible to do it all yourself, but if you have never configured a CRM before, you will want to do it right. The best way to get started with a CRM is have a CRM expert help you setup the system the way you need it.
Make a list prior to that first setup call with the overall goal of what your organization plans to do with the CRM. Prepare your data before the setup call so the CRM expert can import it with you on the call. Create each of your users on the first call, you want to do this so you can have them help you configure each of their email's.
Depending on how large your spreadsheets are, it may not be possible to import everything on that first call. If your CRM provider has good support, they will finish it for you after the call and contact you once it's finished to review everything and make sure nothing is missing.
The next step is CRM customization, if this is your first time getting started with a CRM you'll want the CRM expert to train you on how to do basic customization of the system. Such as customizing fields, creating custom lists, customizing the permissions of your users so they only have access to the data they need and nothing more.
Lastly you'll want to take advantage of the knowledge the CRM provider has, and ask their advice on how to best rollout the new system to the rest of your organization. It may be a good idea to let the CRM provider train your users, the way this usually works is a few group training sessions. Each department will have one training session all sharing the same screen, for example the sales department will have one training, the service department will have their own training. Each training will be geared for that group of users, as sales people will be using the CRM differently than customer service users.