Features
Simple CRM Software
Running a business and managing salespeople is a hectic job, the sales tools you implement should simplify your job not make it more difficult. Many sales software systems require a setup fee or for you to purchase upfront support packages, the reason is because those systems are difficult to use. This was one of the catalysts that gave birth to Snapforce CRM.
Snapforce is a simple CRM, it was built to be an easy CRM to configure. Our engineers designed the system with usability as the primary barometer to decide if certain features should be built and how they should be built.
The early years at Snapforce we worked with many large sales teams developing an intimate understanding of what it takes to get your CRM up and running. After these early years seeing the level of work traditional CRM software require to get up and running, we decided to build a simpler product, so simple "a caveman could do it".
Get Started
Schedule Demo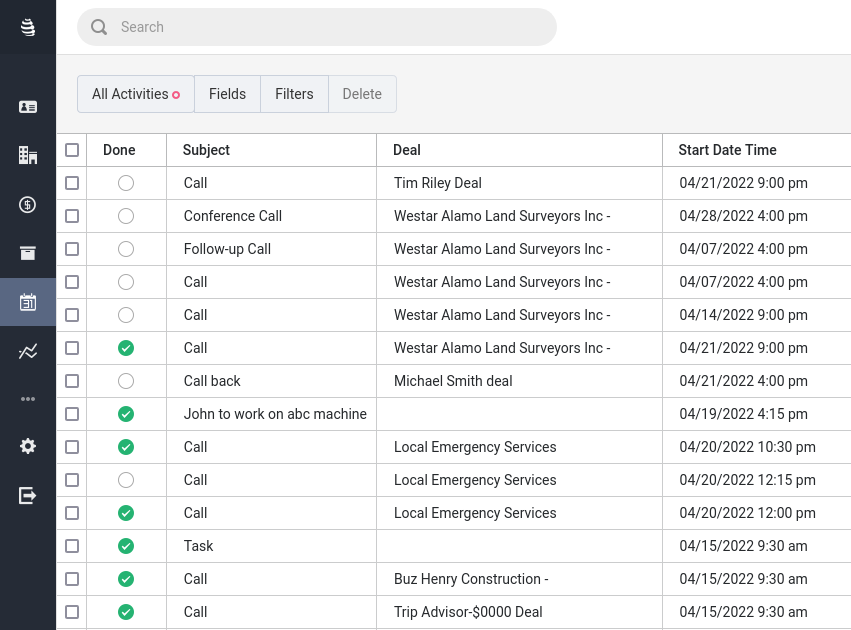 Simple CRM Vs. Complex CRM
Unlike many of the competitors you will find in the CRM space, we chose to focus on simplicity. In our view, software is always better in all respects when it is simple. Therefore when choosing a CRM, we highly recommend a simple CRM over an expensive complex CRM.
An easy sales and customer focused CRM that requires very little input but provides huge output. There is no weekly training needed, or setup process required. Simply login, add deals to your pipline and start closing sales.
We believe our customers are more productive and effective with a simple and easy to use CRM, that includes powerful features that streamline their operations.
Easy to set-up
Instead of relying on your CRM's customer support to help you with your CRM setup, customer relationship management software should be easy to setup yourself. With setup wizard's and a design that is easy to follow. Should you get stuck, in Snapforce you can find a real person available on live chat 24/7.
Unlike the miriad of confusing sales software, Snapforce is an easy CRM tool. We did away with the legacy CRM object structure that includes opportunities linking to accounts and associating contacts to the accounts, etc. No more! We cut out that confusing mess, and have a simple to understand data structure; organizations, persons, and deals. Organizations represent companies, persons represent your contacts, and deals represent the deals your sales people are trying to close. Other CRM systems may refer to deals as leads, or opportunities. At Snapforce a deal is a deal.