Written by
RJ GABRIEL
05/25/2022
CRM call center software refers to customer relationship management (CRM) software that provides call center functionality, specifically calling directly from the CRM. Many times this will solve the need of call centers that need both a CRM and call center software. Solving the operational need and being economically prudent by not spending your IT budget on two systems, and accomplishing what you need with just the CRM.
In my previous blog post about Snapforce 2.0 I detailed how we re-built the product from scratch, likewise our telephony and call center features were also re-built. I will discuss some of the reasons why in this article, but mainly it is due to the changing times and how communications technology has evolved since our initial CRM telephony rollout 8 years ago.
Changing Times
Making calls from the CRM is important to many organizations, and is a feature that has been part of Snapforce for years. With the launch of Snapforce 2.0 we had the chance to go back to the drawing board and re-think the pros and cons of the original design of our virtual phone system.
The guiding principle for our engineers is simplicity, everything we build needs to add to the simplicity and overall intuitive nature of the product. There were many powerful features that were included in the original Snapforce phone system, but were rarely used. The majority of our call center user base uses the system for outbound calling, most important was click-to-dial, call recording, call monitoring, call coaching, and having the ability to call from their company phone numbers. All of the other call center software features were only used in a small portion of deployments.
After compiling and analyzing the data around which features were most sought after, and which features were used least, we began to sketch a new blueprint for the role telephony should play in the CRM. The outcome of this soul searching process is obvious now but not so much at the time. Snapforce Telephony was to be re-built with webRTC and a slimmed down feature set, specifically the features that are used by 90 percent of the call center user base.
Introducing Snapforce Telephony
Snapforce Telephony is a CRM call center software that provides both sales and support teams a way to make phone calls from the CRM. Callers can make calls from any page in the CRM system and optionally record their calls. Each call is saved to the timeline of the person you spoke with, and if the call was recorded you can play the recording right from the browser.
With CRM Call Center software you retain the flexibility and functionality of the CRM. Unlike traditional call center software that follows a straight calling regimen, these old style systems would serve one call up after the next with little flexibility or customization.
Adding Telephony to Snapforce is easy, and involves no special setup work. You can begin making calls from the CRM within seconds. Users can even call from their mobile or work phone number immediately.
Feature Overview
Snapforce CRM Call Center provides both sales and support teams with a number of advantages to using a third party phone system, some of these are:
Unlimited Calling
Snapforce Telephony includes unlimited calling within the lower 48, and parts of Canada. International calling is available but needs to be enabled separately and standard rates apply.
Browser Based Calling
Snapforce Telephony works directly from the web browser, there is no longer a need for a softphone. This is possible because of the webRTC protocol (Web Real-Time Communication), which has gained in popularity over the last few years and has been chosen as the primary direction for browser based communication by the large tech companies. Due to this, webRTC has improved drastically since the original release of our CRM telephony feature.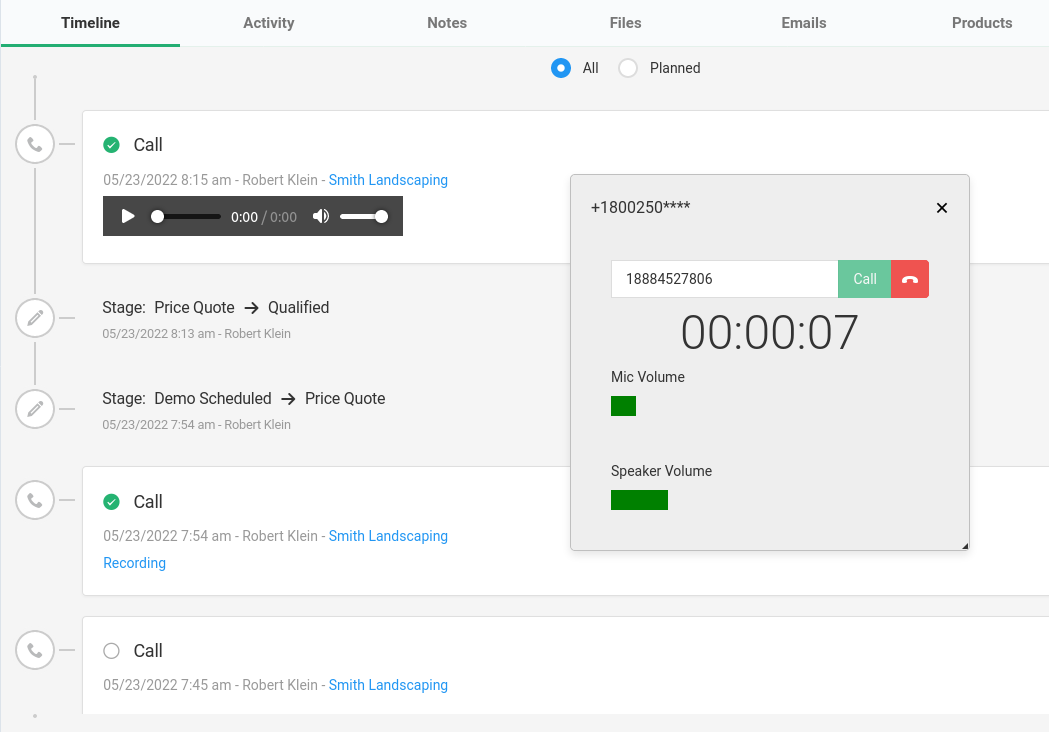 Existing Phone Numbers
You can continue to use your existing phone numbers without having to port the numbers between carriers. In Snapforce you can now validate your existing phone number, that can be a mobile number or company landline and begin using that number to call immediately. Validating a phone number only takes a few seconds, basically we call your number with a validation code that you need to enter into Snapforce, and that's it!
Porting phone numbers was always a hassle and really fell outside of the scope of a CRM system to do, even though we did it for years. Going forward we feel this new approach makes much more sense, and is easier for both us and the user. Our number one goal is simplicity, having a simple CRM that is easy for anyone to use and get started using is our highest priority. This new approach follows that policy and removes barriers to deployment that old fashion port requests would cause.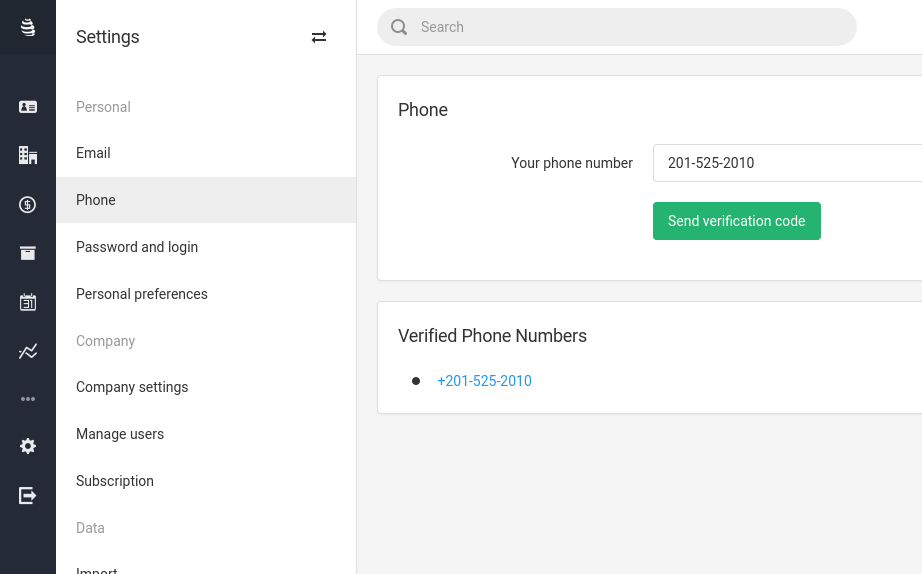 Call Recording Enhancements
Call recording has always been available in Snapforce, but there has been many improvements to call recording functionality. Some of those improvements include streaming your recorded calls from the browser instead of needing to download the file to listen. We also updated the recording file format, recordings are now stored in mp3 files instead of wav files. Lastly and most notably users who have the recording privilege can start and stop the recording throughout the duration of the phone call. This is especially useful when long duration calls only need a small portion of the call to be recorded. If there are multiple portions of the call that need to be recorded, that is fine as well, you will end up with a separate mp3 file for each portion of the call that was recorded.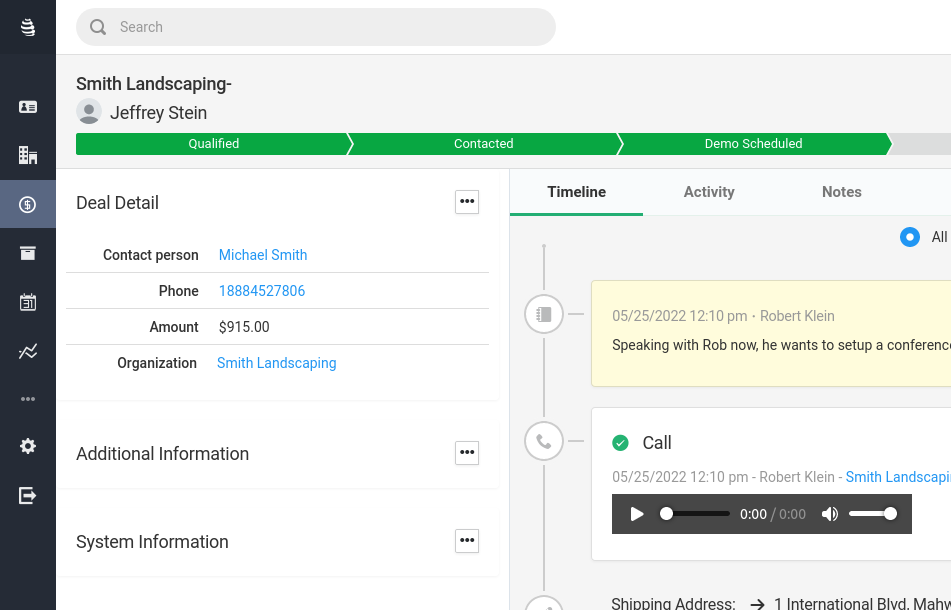 Twilio Integration
We expanded our Twilio integration to work flawlessly with Snapforce Telephony. This way if you already have your own Twilio account, you can use it instead of switching to Snapforce Telephony. All the same features are available and includes no additional costs.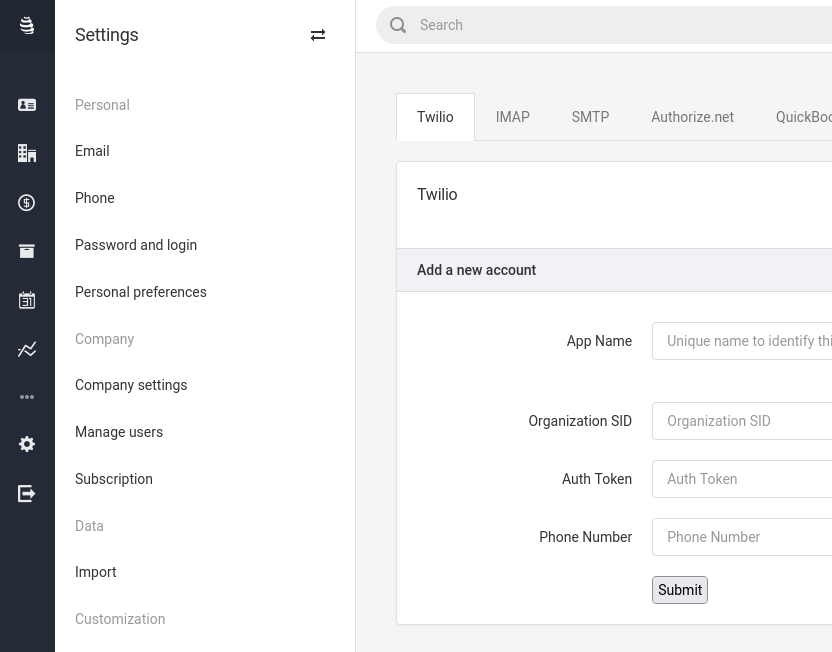 Conclusion
If you follow this blog, it should be clear that the direction Snapforce is moving has been toward developing the easiest CRM, with a powerful feature set. We believe that the Salesforce approach to CRM software is wrong, in fact we now refer to Salesforce as CRM bloatware, instead of CRM software. The direction of Snapforce 2.0 and onward is to develop a simple CRM that is powerful in its simplicity and its flexibility. Telephony should play a role to aid in that direction, helping to make calling from the CRM easy. Likewise the setup of the Telephony feature must be like the rest of the system, easy with the smallest amount of setup necessary. We believe we have accomplished that goal, and will continue moving in that direction.