Written by
JENELLE DEMARCO
05/02/2022
Are you considering Hubspot CRM for your organization? If the answer is yes, there are a number of facts to learn about the Hubspot pricing model before taking the plunge. In this article I will breakdown Hubspot pricing and how it compares to the competition.
What is Hubspot?
Hubspot is a marketing software company, that sells marketing automation and more recently sales software. The company was founded in 2006 and is now a public company, filing their IPO on August 25, 2014. They reported $1.3 billion in revenue last year, according to their 2021 annual report.
Now that we know what Hubspot is, let's delve into their pricing model, which is surprisingly on the high side of the CRM industry. Hubspot enjoys using the catchy hook "free CRM", but what users do not realize until it's too late is the limitations that come with that version. They put limitations on the number of contacts you can upload, the number of reports you can create, the types of objects you can use. Most users end up resorting to paying for Hubspot licenses when they never had any intention of doing so.
Unlike smaller CRM providers who focus solely on their CRM business, Hubspot appears to be following the salesforce model of growth, acquire growing businesses. It seems when these large public software companies have trouble growing the number of new year over year CRM users, they begin to acquire growing businesses in alternative industries. One of the reasons Hubspot is having difficulty growing their CRM user base may be due to their unfair pricing. It is hard to argue that Hubspot costs are fair, especially when compared to competing products in the market.
Hubspot Pricing Terms
Hubspot pricing offers you the option to choose between paying monthly or annually. The annual option saves you 10%, which is on the low end of cost savings (for example Snapforce CRM offers an annual discount of 33%).
Hubspot Enterprise Edition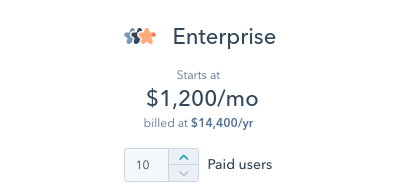 The most expensive version of Hubspot is their Enterprise edition, which costs $120 per user per month. The caveat with the Enterprise edition is that you cannot purchase just one license, they put a minimum license count of 10 users. So you cannot use Hubspot Enterprise unless you have at minimum 10 users, and are ready to spend $1,200 per month or $14,400 per year.
There is no monthly option for the Enterprise edition, Hubspot pricing breaks the pricing down by month, but does not offer a monthly license for this edition. The Enterprise edition is specifically an Annual license (at the time of this writing).
Alternative - Snapforce CRM pricing is $12 per user per month plus $5 for unlimited workflow automation, and includes the same feature set as Hubspot Enterprise, with the exception of a sandbox feature.
Hubspot Professional Edition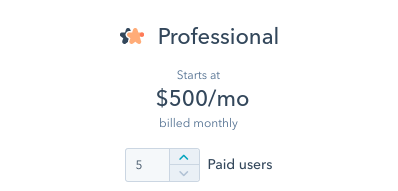 The mid-priced version of Hubspot is their Professional Edition, which starts at $100 per user per month. Similarly to the Enterprise Edition, Hubspot puts a minimum license count on their Professional Edition. The minimum number of users you can have on Hubspot Professional is five.
If you choose to pay annually Hubspot offers a 10% discount, bringing the monthly cost to $90 per user. The Professional Edition also comes with limitations according to their full feature comparison chart. For example, you can only have 15 pipelines for your sales process. Another limitation is that you are only allowed to have 25 dashboards.
Alternative - Snapforce CRM pricing is $12 per user per month and includes the same features as Hubspot Professional, as well as unlimited sales pipelines, and unlimited custom reports and dashboards.
Hubspot Starter Edition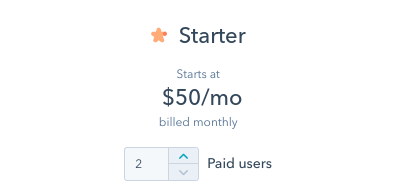 The low-priced version of Hubspot is their Starter Edition, which costs $25 per user per month. The Starter Edition also has a minimum user count required to get started, which is two users (I guess that's better than 10!). The Starter Edition is in the general ball park of most other high priced CRM systems (which means even their low-cost option is expensive).
Another important fact to take into account with the Starter Edition is many of the limitations they put on you with this version. Some of them include only being allowed 10 dashboards, and 10 reports per dashboard, only allowed 1 inbox, and only allowed 2 pipelines for your sales team.
Alternative - Snapforce CRM costs $12 per user per month, and has no limitations on the number of pipelines, dashboards, or reports you can create.
Conclusion
The main take-away is that Hubspot pricing is expensive, and you can most definitely find the same functionality at a better price. The CRM market in the year 2022 is very crowded and most of the best CRM systems offer the same features. In my opinion, the only thing that distinguishes CRM companies in 2022 is how much of a simple CRM they offer.
About Snapforce's Pricing Model
Snapforce CRM is a web-based CRM software, and offers a very easy to use CRM. The pricing structure of Snapforce is unique in that we only offer one version or edition, and you can choose to optionally add-on additional features if you need them. This "a la carte" pricing model provides a level of comfortability to our customers that they only pay for the features they need to use.